Leadership is hard to quantify, but we all know when we see it.
George Washington and Winston Churchill. Vince Lombardi and Phil Jackson. Jack Welch and Steve Jobs. I bet you can name everyone of these leaders' organizations. They're all part of the canon of successful leaders.
We know they are amazing leaders because of their impact. We measure that not only by the highs they achieved, but also, in part, by how their organizations faltered without them. To prove my point, with the exception of Steve Jobs, I bet you can't name any of their successors?
Team + Leader = Success
Team - Leader = Failure
The missing piece is the leader and we incorrectly assume that the best leaders are those where we can clearly see their impact. And what better way to see their impact but by their absence.
Unfortunately, the best leaders are the hardest to spot because exceptional leaders build teams that are successful long after they leave.
Our intuitive math doesn't work for these leaders.
Team + Leader = Success
Team - Leader = Success
There are three types of successful leaders.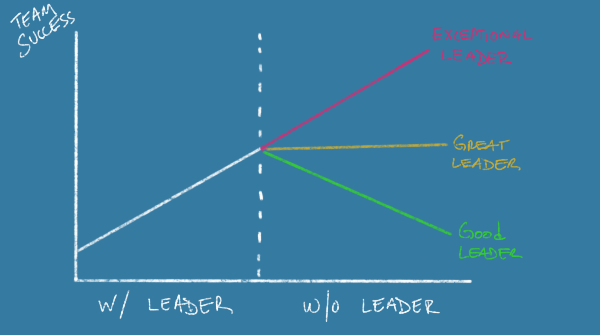 Good leaders are the glue that keeps the ship together, but without them, their team's performance dwindles. These leaders get a lot of attention because our intuitive math aligns with their story.
Great leaders are harder to spot from afar because their teams continue to be successful after they leave even if they don't reach new highs. It's less apparent that these leaders are great because our intuitive math doesn't align with their story.
Exceptional leaders are defined by the highs they achieved and the new highs their team achieved without them. Our intuitive math totally fails us when we evaluate exceptional leaders. But I doubt that these leaders care that much. They'd be happy for their teams.
Steve Jobs was an Exceptional Leader, but that wasn't always the case. When he first left Apple in 1985, I'd argue that he was at best a Good Leader. The company struggled in his absence. After he returned to Apple in 1997, he became an Exceptional Leader. Apple has gone on to new heights without him. But we incorrectly lionized Steve Jobs for the way he was able to reinvigorate Apple after he returned in 1997. Had Jobs had been an Exceptional Leader in the 1980s, he wouldn't have had to come back to Apple.