In the hardware wallet market, Ledger is in a league of their own. But is that the proper classification, or should we compare them to other crypto companies like Coinbase?
Ledger has raised $468 million and the next closest hardware wallet competitor has raised less than $15M. So what the hell is going on? What's so special about Ledger? From what I can tell they have about 20% of the hardware wallet market which certainly doesn't validate having about 5x the funding of all of its competitors combined.
After noodling on this peculiar market scenario, I've come up with a few ideas about what's going on.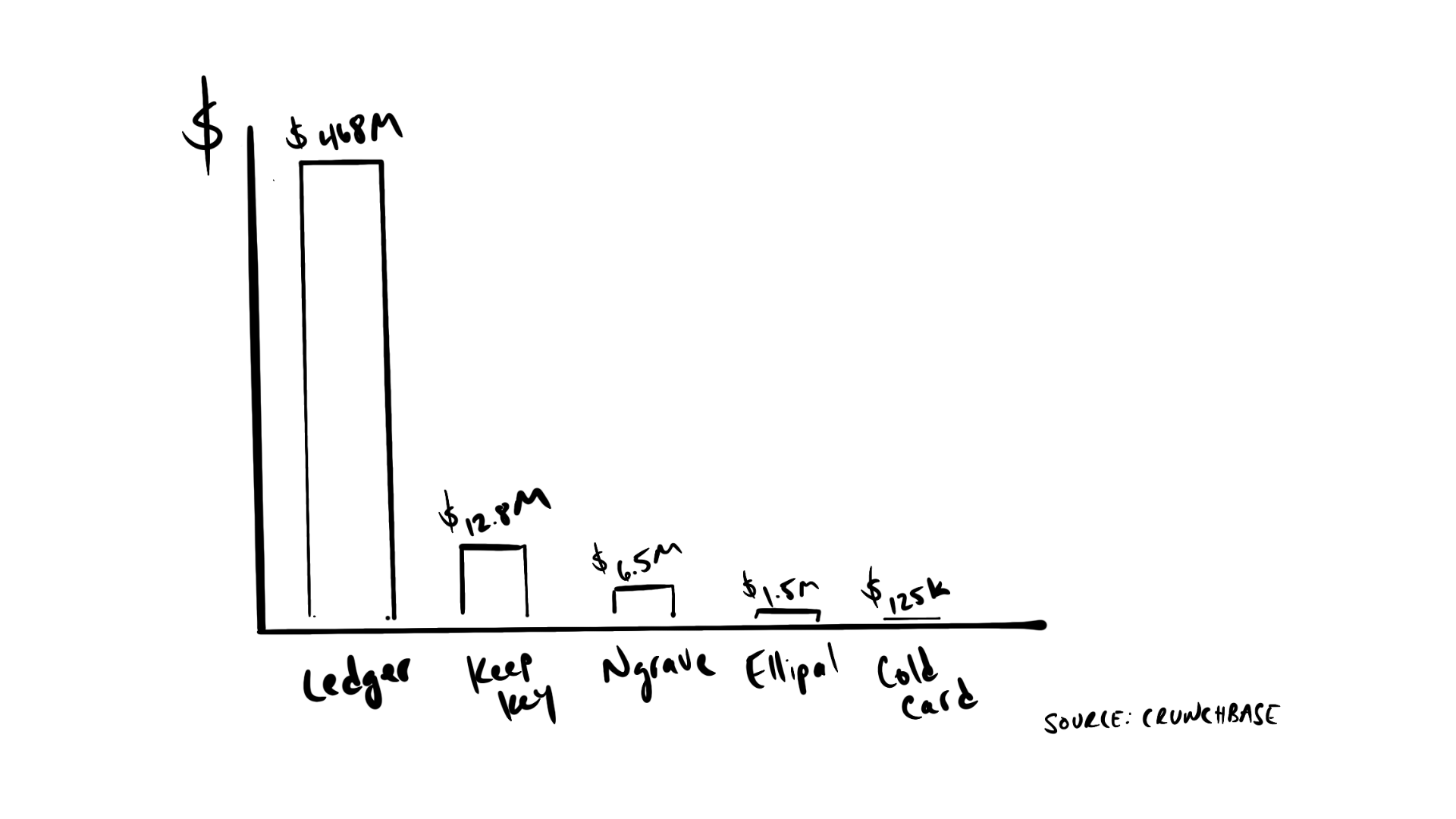 First up, I'll consider the paltry investments made by VCs. Then we'll take a closer look at Ledger and see if we can gather what's so special about their business.
Hardware is not for VCs
It's no secret that VCs love software. Big margins, easily scalable, and bountiful exits. What's not to love?
I suspect that VCs are overlooking hardware wallets because they're missing how hardware wallet companies can become platform companies. VCs are looking at the hardware and make two conclusions:
Hardware wallet tech is not difficult to build. Given the number of similar products in the market, there doesn't appear to be any deep tech that gives a single company a technological advantage that can last for years.
Hardware wallets are not too capital intensive to manufacture. The large number of private companies with no publicly known fundraising suggests that it is relatively cheap to design and build a new hardware wallet device. This means that there is a low barrier to entry and makes picking a winner more difficult. For example, the Trezor hardware wallet has about the same market penetration as Ledger, but without any known fundraising.
The Ledger Difference: I suspect that Ledger has raised $468 million on the promise that it is more than a hardware company. As every Ledger customer secures their funds with the Ledger device, Ledger will develop additional products to help their customers do whatever they want to do.
Ledger isn't a hardware company, it's a software and platform company.
Ledger will build a financial platform that adds more value to its customers and creates more revenue streams. No other hardware wallet companies have been able to do this yet and it doesn't appear they're about to anytime soon.
A sea of substitutes
The hardware wallet is a small niche in the crypto space. There are many options to hold your funds: exchanges, software wallets, and hardware wallets. When I discussed hardware wallets with two VCs they both said the same thing: "I'd be scared of losing my device."
If this is the baseline starting point of investors, there is a lot of education hardware wallet companies need to do to convince investors that they can be successful. How do you win investors over when 60% of funds are held on exchanges? How do you win over an investor that hasn't self-custodied their own funds – assuming they own crypto in the first place?
The Ledger Difference: Ledger is likely the visionary company in this field that all others follow. You can't raise $468 million without a grand vision and excellent execution. The odd thing is that no one else is copying them closely enough to raise similar funds. Maybe we're just too early? Or maybe the door has already shut and too many good alternatives deter promising founders from entering this space.
Is Ledger the next Coinbase?
When I look at Ledger I see a hardware wallet company transitioning to something more like an exchange. A quick glance at the websites of Ledger, Trezor, and Coinbase shows you that Ledger looks a lot more like Coinbase than its nearest hardware wallet competitor Trezor. Coinbase raised $567M before going public last year and Ledger has raised $468M and is about to go public. The more I learn about Ledger the more I'm convinced they want to eat Coinbase for breakfast and aren't too focused on Trezor, even though your first inclination is to say that Trezor is Ledger's closest competitor.
But currently there is a wide difference in business models between Ledger and Coinbase. Ledger claims they have 4 million customers, while Coinbase boasts of 73 million users. I'd bet that Ledger's customers are stickier, but can the revenue per customer for Ledger be 20x Coinbase's? That seems unlikely, but not impossible.
Ledger was my first device and I still have it, but I've never bought or sold crypto through their platform. I wonder how successful they are in cross-selling other products to their user base.
So is starting a hardware wallet company a good idea?
Only if you think it's the best niche to acquire crypto users and expand into a multi-product offering. Ledger is launching a credit card product to allow you to spend your crypto funds. They have an enterprise suite of tools geared towards institutional investors. They also have an emerging marketplace of apps that allow their users to take advantage of interesting crypto services.
My prediction is that we will see more companies to custody your funds. What you might not have predicted is that exchanges will enter this marketplace too. But I believe they will. The biggest risk to any exchange is a hack that causes widespread fear amongst their users. It's also unclear how loyal customers are to each exchange. I know I use many exchanges. But a hardware wallet built by a trusted brand like Coinbase with 73 million users might improve loyalty and de-risk their business. A hardware wallet seems like a great additional product for an exchange. I suspect that Shapeshift.io, a decentralized exchange, bought hardware wallet KeepKey for these precise reasons.
I can't wait for Ledger to go public and we can read their public filings. It will be very interesting to compare Ledger's business to Coinbase's. I think they will be far more similar than we might think at first glance.
What do you think? Is Ledger a hardware company or something more? Can they compete with exchanges? Will they get a massive IPO like Coinbase?
[Note to reader: this post was originally posted with reference to Ledger's IPO. That was a mistake and Ledger, the hardware wallet company, has not publicly signalled any inclination to file for IPO as of February 10, 2022. Sorry for any confusion.]